Saf-Gard Boot Truck Coming to Burton & Canton in September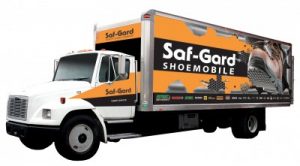 The Saf-Gard Boot Truck will stop at our two Ohio locations in September. The truck will be at our Burton facility on Sept. 3, from 7 a.m. to 9 a.m. It will be at Canton on Sept. 9, from 4 a.m. to 9 a.m.
V&S Schuler will pay up to $150 toward the purchase of internal metatarsal boots for each shop employee. If the boots you select cost more than $150, you'll be responsible for paying the balance at the truck with cash or card. Saf-Gard representatives will personally fit each employee, ensuring proper fit and com-fort for maximum performance and protection.